Matts-Rune Bergström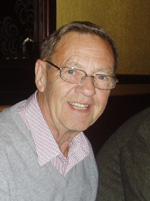 <!br>

September 18
2004.

He was born January 29, 1923 in the maternity hospital Pro Patria on Sveavägen in Stockholm. His parents were iron merchant Hugo Bergström and his wife Edith Wahlström.
He was baptized on February 3 and given the names Matts Rune Hugo. He was called Matts-Rune. Of his circle of friends, he was called "Masse" and of his nephews "Mappo".
The family lived at the time in an apartment on Kungsgatan 80 in Stockholm.
The following year, April 1 1924, the family moved to the small village of Gnesta in Frustuna parish, Södermanland County. In Gnesta his father Hugo had bought the hardware store. They came to stay in Gnesta for four years and they lived at three different addresses.
They first lived at Norsberg on the proporties of the farm Olofsberg. In the churchbooks it is written that they moved there on August 6, 1924. The owner of the property was Frustuna municipality. Later that year, they moved on to Ängstugan and in 1927 the family moved on to the house Hagalund on the proporties of the farm Högalid. They lived in Gnesta until October 1 1928, when they moved on to the city of Södertälje where his father Hugo had bought the hardware store Nillson & Luthman.
On October 29, it is written in the church books that they had moved in to Södertälje and the address Järnagatan 7. In 1934 the family moved on to the block Väduren 10 in Södertälje.
On 28 August 1929 he started 1st grade in Södertälje City elementary school. There, he went to the 5th grade which ended in June 1934. In August 1934, he began his 6th grade in Higher general secondary school in Södertälje. There he studied for four years, until June 1938.
His father was very involved in the Scout movement in Södertälje and in his youth was Matts-Rune also scout in Södertälje Scout. 1931, he was in the patrol fox. He was also featured on the big scout camp at Tullgarn in Södermanland in the summer of 1938.
On 25 August the same year, 1938, he joined Solbacka Grammar School. During the academic year 1938-1939, he went in Class 35b and lived in a room in "South gymnastics". During the academic year 1940-1941, he went into class 5 and lived in room 99 on the second floor of the house that was called "Österbo II". His roommate was Einar Öjstad, later cellar master at restaurant Aurora in Petersen house in the Old Town of Stockholm. On Solbacka Grammar School, he went for three years and took with Lower school certificate May 26, 1941.
Meanwhile at Solbacka he was confirmed is in the nearby Gryt church.
In October 1939, his parents moved from Södertälje to Stockholm and the address Jacob Westinsgatan 1 on Kungsholmen. After completing school at Solbacka he moved home to his parents in Stockholm.
In Stockholm he continued his studies at the Technical Institute, TI, in Stockholm, 1941 - 1943. There, he also took his engineering degree in power.
After Ti he was employed as a draughtsmen at Elgajo AB's office in Sundbyberg, just outside Stocholm. There he was employed during the period from January 15 to March 31 1944.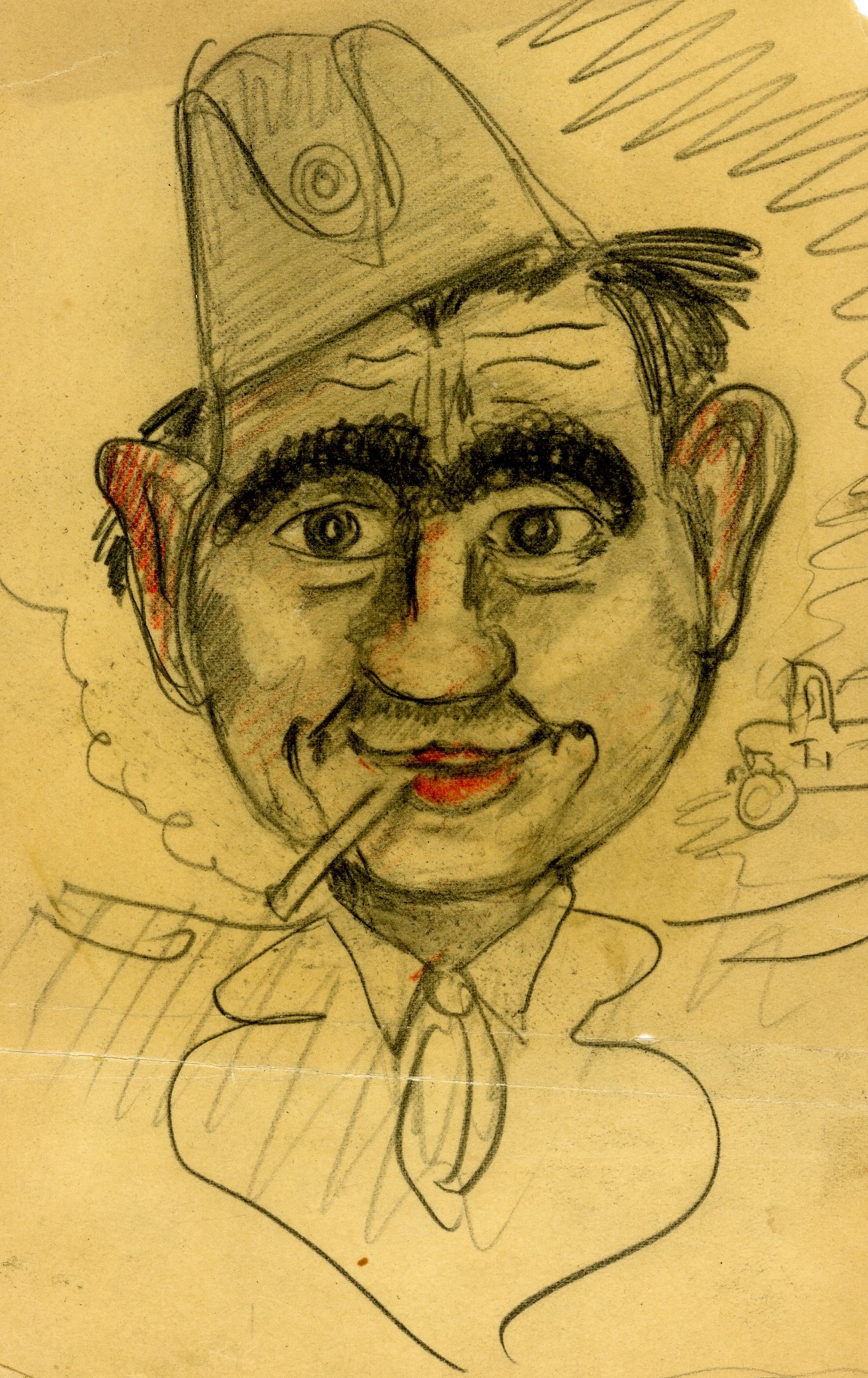 <!br>

Painting by Matts-Runes first
cousin Per "Pelle" Östman.

In April 1944 it was time for military service at the Royal Svea trängkår T1 in Linköping. During the period April 1 - September 29, 1945, he underwent officer training and became a sergeant. He belonged to the second company.

The family now had moved to S:t Eriksgatan 98 in Stockholm.

After completing his military service in 1945, he visited Elgajo AB to receive credentials from hos former emloyment. Then the chief Bo Tellander on Elgajo said: "You must start woring here again" and that's what happened.

From November 15 1947 till March 27 1950, he served as director and supervisor at Elgajo's office in the city of Solna. From March 28 1950 to December 31 1950 as director in the office in Jakobsberg. And later as leader of the installation department at its headquarters at Kungstensgatan 51 in Stockholm. He finished working at Elgajo on July 31, 1961.

Sometime in the early 1950s he moved to his own apartment of one room and a kitchen on Kadettgatan 3 in Stockholm.

He lived there in 1951, still working at the headquarters of Elgajo. One day that summer as he conversed with his colleague, Bengt Lindergård, if he knew any girls that they could meet and socialize with. Bengt, who was born on a farm in Alsters parish in Värmland said that in the same house that they worked in, Kungstensgatan 51, there lived a girl from a neighboring farm home in Värmland. They decided to call her. The girl, named Brita Modahl had a bad cold, so she did not want to hang out with them. But the guys did not give up and went to pastry Hurtigs on Upplandsgatan and bought cakes and went right up to Brita so she had to serve them coffee.

The day after Matts-Rune went there himself with little flowers.

Something that Matts-Rune did not like was whipped cream and cakes. The first time he followed Brita home to her mother on the farm Mosstorp in Alsters parish she had baked cake to welcome him to Värmland. He had a hard time knowing how to behave when the cake was served but took courage and said no thank you. He believed that his time in the family thus would end but that did not happen. This episode he has told countless times through the years.

On October 24 1953 he married Brita Modahl in Alsters church, Värmlands county. They moved together in the apartment on Kadettgatan 3 in Stockholm.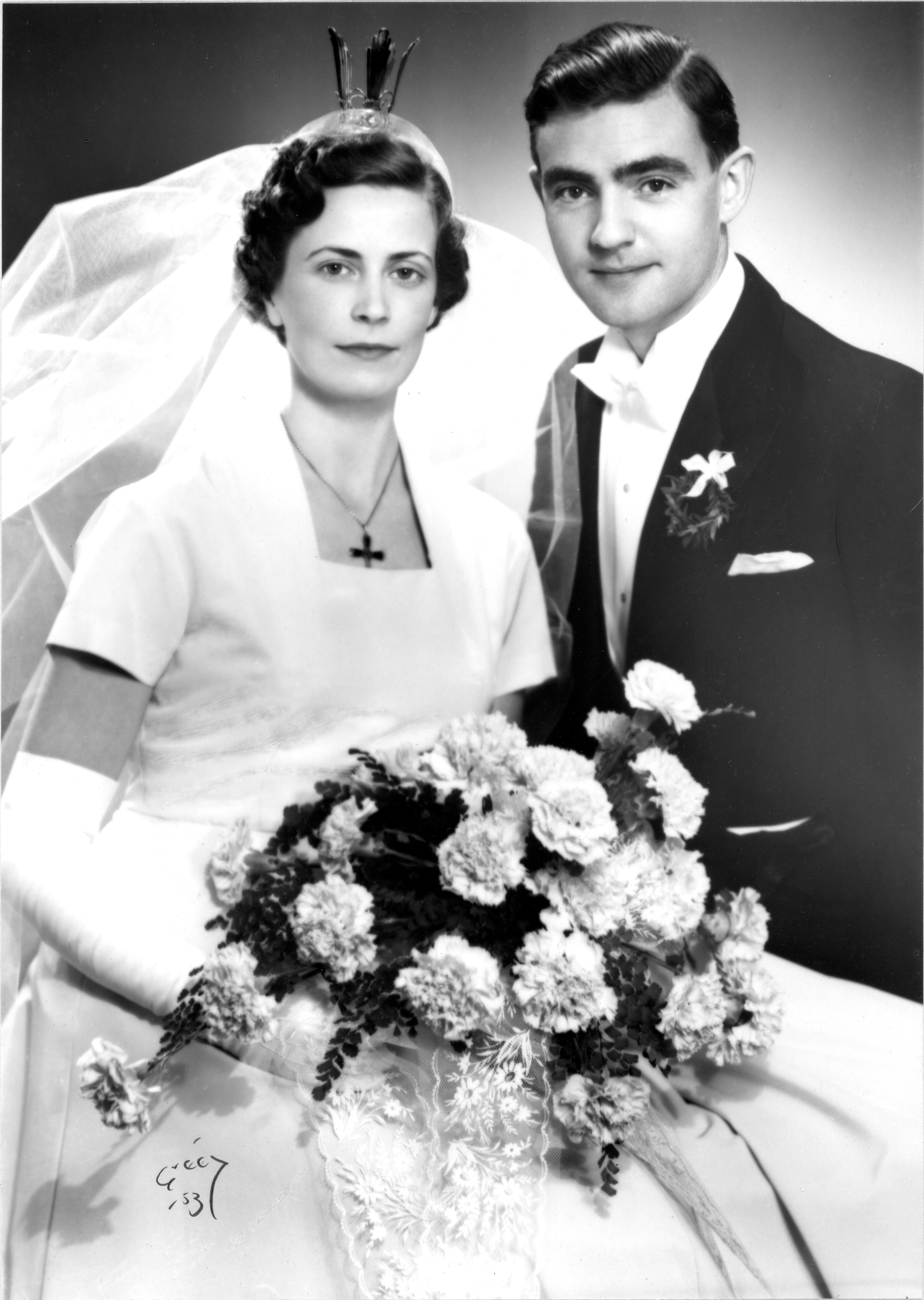 When their first child Håkan was born on september 18, 1955, they still lived on Kadettgatan 3 in Stockholm. In November of the same year they moved into one of the apartments in the house on Råsundavägen 41 in Solna.
A few years earlier, in 1949, when he worked at Elgajo he was to inspect an electrical installation on the new built on Råsundavägen 41 in Solna. When he got there he saw his father coming from the other direction with the owner of the house. His father was there to see if he would buy the house, whitch he also did.
The family moved into an apparment of one room and a kitchen, 3,5 floors up. There they lived for a short time and then thye moved down to the 3rd floor and an apartment of 3 bedrooms and a kitchen. There they come to live for years to come.
In 1961 he started working at Bergmark Ingenjörsbyrå on Vanadisvägen in Stockholm. He worked there for almost a year.
1962, he was employed at Lindergårds engineering company on Lidingö. Lindergårds Ingenjörsbyrå was owned by Torsten Lindergård, brother of Bengt Lindergård on Elgajo. Here he designed the electrical systems on drawings in real estate.
He worked on the Lindergårds engineering company to about 1972 when it went bankrupt. Matts-Rune then started his own business, Bergströms Electrical Ltd, and had the office in the apartment of 3,5 stairs on Råsundavägen 41 in Solna.
After more than 1.5 years of self-employment, he received the 1973 employment at Elektronom Eletta AB on Källvägen 1 in Solna. The company later moved to Västberga in Stockholm. He was sales manager. He worked on Elektronom Eletta to his retirement in the end of 1987.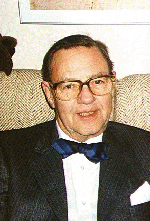 Matts-Rune 75 years.
On Januari 29 1998.
In 198? he was informed by the Swedish Railroad company, SJ, and that they planned to build a railway tunnel and that would affect the house on Råsundavägen 41, still owned by Matts-Rune and his sister Inga-Greta. The house was sold to SJ who later tore the house down to make room for the new train tunnel.
Matts-Rune and Brita were offered a new apartment on Virebergsvägen 15 in Solna. They moved to the new address in november 1987.
In 2004, he sold his share of the summer house property Märteberg at North Lagnö. Märteberg was the summer house on Värmdö that he and his sister Inga-Greta inherited from their parents.
On Märteberg people lived mostly in the summertime, later even on weekends in spring and Fall. The houses on the property was initially not winterized. In the 1960s the "Brown villa", the house that Matts-Rune had, was winterized. Märteberg was his paradise, and where he has spent countless hours in the carpentry.
After the sale of Märteberg he and Brita got the opportunity to stay in the small cottage called "Grind stugan" at the farm Hösserudkullen in Alsters parish, just north of Karlstad. Hösserudkullen was owned by their son Håkan. There, they spent most of the year, except for the winter months.
In early summer of 2007 they decided sell the apartment in Solna and move to Karlstad. They bought a condominium on 3 rooms at Hamngatan 32B i Karlstad.
In the autumn of 2011 age began to take its toll. He was no longer interrested in eating and this continued in the spring of 2012. In the beginning of June we had to go to the Karlstad Central Hospital where he received treatment for a week. He came home much stronger but on June 19 he was back in the hospital. He stayed there until July 2. After that he moved to a short-term accommodation in Åsbacka sheltered in Molkom, 20 kilometers north of Karlstad.
His health was unfortunately no better and Matts-Rune died on July 27, 2012 at Åsbacka in Molkom. He was 89 years and 6 months old.
---

Back to the Family Tree


Copyright © Håkan Bergström, Latest update 2018-10-22