Brita Modahl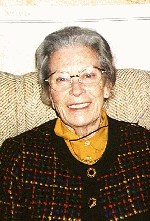 My mother.
January 29 1998.

She was born on January 23 1925 in Karlstad, Värmlands count. her parents were the farmer Gunnar Modahl and his wife Ellen Gustafsson. She was baptised to Brita Gunvor Ingegerd.
At that time the family were living on the farm Mosstorp in Alsters parish, Värmlands county. [Karta]
On October 24 1953 she married Matts-Rune Bergström in Alsters church, Värmlands county.
Brita died on December 12 2016. About a week later she would have been 91 years old. She was buried on January 5th 2017.
---
Children:
<!A HREF="tavla_hbe_c2-02.html">Håkan, * September 18 1955, Stockholm.
Birgitta, * March 28 1958, Solna.
---

Back to the Family Tree


Copyright © Håkan Bergström, Latest update 2017-04-15