Brita Modahl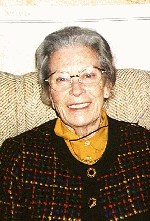 My mother.
January 29 1998.

Brita was born December 23, 1925 at Karlstad Lasarett, in the city of Karlstad in Värmland County. She was the first child to the farmer Gunnar Modahl and his wife Ellen Gustafsson. She was baptized Brita Gunvor Ingegerd.
Her parents were newly married and had married on October 3, 1925, in Alster's church, Värmland County.
By this time, her parents lived on the farm Mosstorp in Alster's parish, Värmland County. The farm was owned and farmed by her father. Her father 's sister Olga also lived on the farm, however, she died already in early 1927.
Brita grew up on the farm in Mosstorp, and there were also her siblings born; Sven 1927, Tage 1929 and Marianne 1932.
In June 1933, her father, Gunnar, died of pneumonia. Brita was only 7 1/2 years old by the time and then had to take a big responsibility for her younger siblings.
At that time, her deceased father's cousin, David Eriksson, lived unmarried on his farm in Mosserud in Nedre Ulleruds parish, not far away. In the spring of 1938 her mother and David married. They widened in Alster's church and then the whole family moved to David's farm in Mosserud in Nedre Ullerud parish. The farm in Mosstorp was leased out.
In Mosserud, the family lived for five years. In 1943, the family moved back to the farm in Mosstorp and the farm in Mosserud was sold.
During the time they lived in Mosserud, Brita was confirmed in the church in Nedre Ullerud. A memorable event on the day of confirmation was that the taxi with the whole family in on their way to the church of Nedre Ullerud drove into the ditch, so she arrived late to the start of the confirmation.
In her youth she was very out on dance. This was also true for her brothers. She loved dancing. After the recent move to Stockholm, there was not much more dance, especially not as her prospective husband had no interest for dance at all. It was also true that her bad knees, a legacy from her mother, also led to the end of the dance.
Brita began her workplace at the Swedish Post next to Ulvsby railway station in the same parish.
On January 18, 1945, she moved to Stockholm. In the church books in Alster's parish, she was enrolled as number 2 who moved from the parish that year.
She moved to Stockholm to help her uncle's wife, Maria "Maja" Gustavsson, who operated the Klinten post office in Björknäs, just outside Stockholm. Maja was widowed by Brita's uncle Ivar Gustavsson.
Brita also worked at Hypoteksbolaget in Stockholm as the clerk. At that time she lived at various addresses in Stockholm, including in a room on the 3rd floor at Kungstensgatan 51. On the street floor of the same house there was the company named Elgajo. At Elgajo, Bengt Lindergård worked as a chamber. She knew Bengt from before as he was born and raised in one of the farms in Lindrågen in the Alsters parish, not far from Mosstorp.
One day in the summer of 1951, Bengt talked with his colleague Matts-Rune Bergström, who asked Bengt if he did not know any girls they could meet and hang out with. Bengt knew that in the same house in which they worked, a girl from home in Värmland lived. They decided to call her. The girl, who was Brita, had a cold that day, so she did not want to meet them. But the boys did not give up so they went to Hurtig's pastry shop on Upplandsgatan and bought some bread and went up to Brita. She had to make some coffee for them. The following day, Matts-Rune went back by himself to Brita with some flowers and the rest is history...
On October 24, 1953, she married Matts-Rune Bergström in Alsters church, Värmland County. The wedding dinner was held at the Alster Inn. She moved in with Matts-Rune in his apartment of 1 room and kitchen on Kadettgatan 3 in Stockholm.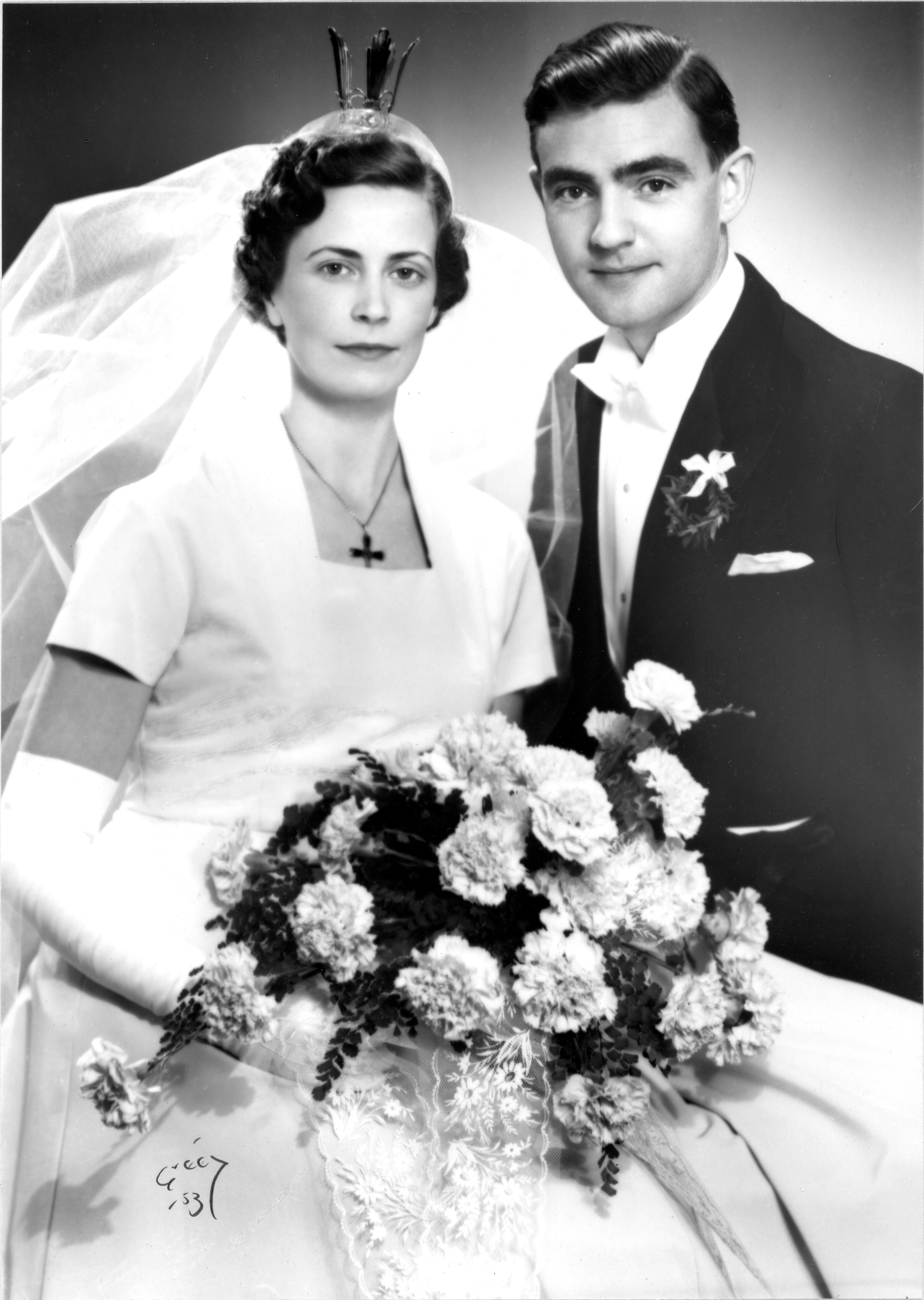 When their first child Håkan was born, on September 18, 1955, they were still living at Kadettgatan 3 in Stockholm. In November that year they moved from Kadettgatan to an apartment at Råsundavägen 41 in Solna just outside Stockholm. The house at Råsundavägen 41 was owned by her father-in-law Hugo Bergström. They first moved into an apartment of 1 room and a kitchen 3 1/2 floors up, and later to an apartment of 3 rooms and a kitchen 3 floors up. In that apartment they came to live until November 1987.
Two years later, their daughter, Birgitta, was born on March 28, 1958.
Her husband Matts-Rune was also the owner of a property on the northern Lagnö in Stockholm archipelago, Märteberg. He owned Märteberg together with his sister Inga-Greta Forswall. On the property there were three houses. Two of the houses were single-family houses and the third "Big Yellow Villa" contained two separate apartments. All houses were used in principle in the summer time and on weekends during the warmer months. Märteberg was her husband Eldorado, where he spent countless hours with nailing and sawing.
At Märteberg there were also some smaller houses, which included a carpentry named "Verkstan" and toilets. In one of these outbuildings there had previously been an ice stack. Her husband Matts-Rune converted that into a small simpler residence, and Brita, Matts-Rune and Håkan lived there the first month after the birth of the son.
A little later, Brita and her family were given the opportunity to use the upper floor of the "Great Yellow Villa" as a summer residence. After her husband's parents had died in the early 1960s, they could move to their house, "Brown Villa", which was renovated into a year-around-house. The third house, "Little Yellow Villa", was used by Matts-Runes sister Inga-Greta Forswall and her family at this time.
After the birth of Håkan, Brita stayed at home as a Housewife until early 1970s.
She was also very engaged in different associations, mainly within Solna Husmorsförening. There she planned for course activities and arranged a variety of courses for the members. She also planned trips to various places, including a trip to Rome.
During this time she also worked with the magazine "Readers Digest". She worked in their member department where mail orders that would be expedited.
During the first years of the 1970s she started working as a volunteer in the Red Cross at Karolinska Hospital. Later she was employed as a secretary at one of the surgical departments at KS.
In recent years she also participated in the Rebecca loge within Odd Fellow, both in Stockholm and later in Karlstad.
Brita loved people, being among them to talk and to discuss. Talking on the phone, she was like a pro. She would rarely miss a party, an event, a gathering or a meeting.
Her great interest was also to arrange dinners. She was a fantastic hostess and always wanted to do the best for her guests. An amazing hostess! Her caring for her guests was so significant that she often told and asked her guests to "Take more food!". "Are you satisfied?", "Take a little bit more...".
She also baked diligently. Buns, sugar cake and cakes, but also bread. A specialty was a small pastry called "Coconut Shapes".
On the other hand, she was totally uninterested of sports, but sewing was another of her great interests. When the children were young, she often sewed clothes for them.
In 1986 they lived in the apartment on Råsundavägen 41 in Solna. That same year, SJ contacted her husband Mastts-Rune. SJ now planned to build a rail tunnel through the mountain under Hagalund in Solna. This would affect the property on Råsundavägen 41, which was still owned by the family, now jointly by Matts-Rune and his sister Inga-Greta Forswall. The house was sold to SJ on January 12, 1987, which later tore it to build the new train tunnel.
At that time, Matts-Rune and Brita was offered a new rental apartment on Virebergsvägen 15 in Solna, where they also moved in in November 1987. The new apartment was a 4th room apartement on first floor. On July 4, 2001, the apartment was converted into a condominium.
Even though Brita lived in Solna, she never forgot her Värmland origin. She and her husband were, for example, members of the Värmland Society in Stockholm and they also often drove to Värmland to meet with their friends and relatives.
One of her loved relatives was her father's cousin Dagmar Andersson. She lived in the old family farm Hösserudkullen in the Alsters parish. Brita and Matts-Rune often visited her when they were in Värmland. Dagmar was unmarried and had no own children. When Dagmar died in 1990, she had tested her farm to Brita and her family. Suddenly and unexpectedly, Brita became owner of a farm 20 kilometers north of Karlstad.
Initially the rooms downstairs in the manor house were rented out and the upper floor was used by Brita and her family when visiting Värmland. After a few years, the ownership was changed so that her son Håkan became the owner of the entire property.
In 2004, Matts-Rune sold its part of the property Märteberg on Norra Lagnö. After the sale of Märteberg, Brita and Matts-Rune instead got the opportunity to live in the little cottage called "Grindstugan" on the farm Hösserudkullen. There they lived for most of the year, except for the winter months.
They had still the apartment on Virebergsvägen 15 in Solna, but in late 2007 they made the decision to move to Karlstad. They bought a residence of three rooms on second floor on Hamngatan 32B. .
During the fall of 2011, her husband Matts-Rune became sick and he later died 27 July 2012 at Åsbacka Vårdhem in Molkom north of Karlstad.
Brita, who himself had difficulty with both sight and walking, could not manage himself at the apartment at Hamngatan in Karlstad. One opportunity opened in the autumn of 2012 and she was offered an apartment in the municipality of Karlstad for eldery people at Ventilgatan 18 in Växnäs, where to she also moved.
There she participated in something called the "Day Activity", a trial activity that Karlstad municipality set up to activate the elderly people in the house and not to be isolated in their apartments. An activity she really appreciated and that later became permanent.
Since many years, Brita had also suffered from Stroke and occasionally she had "10:or", a form of mild brain hemorrhage.
After a more serious brain bleeding on Thursday, December 8, 2016, she never recovered. Brita died on December 12 in the suites after the brain bleeding. Just a week later she would have reached 91 years. The funeral took place in Alster's church on Thursday, January 5, 2017.
---

Children:
Håkan, * September 18 1955, Stockholm.
Birgitta, * March 28 1958, Solna.
---

Back to the Family Tree


Copyright © Håkan Bergström, Latest update 2018-10-25