Ellen Gustafsson

Ellen was born as the third child of Axel Gustafsson and his wife Katarina Larsdotter, on October 2 1898. She was born on the farm Slottbråten under Kollerud in Eds parish, Värmlands county. There she also grew up. At the baptism she was given the names Ellen Augusta.

In 1916 when Ellen was 17 years old, her father bought the farm Säter in Alsters parish, Värmlands county. On April 1st the same year they moved to Säter.

She still lived at home when she, in the beginning of the 1920th, met her husband to be, the farmer Gunnar Modahl, from the farm Mosstorp in the same parish.

On August 8 1925 they met the priest in Alsters parish to ask to have the banns published. She got married to Gunnar in Alsters church on October 3 1925. After the wedding she moved to Gunnar in Mosstorp.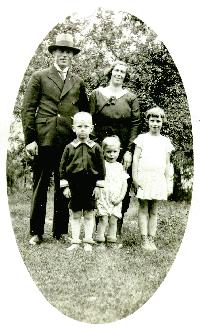 Gunnar, Ellen and the children Sven,
Tage and Brita.

The day before Christmas, on December 23 1925, she had her first child, the daughter Brita. Her husband Gunnar writes as follows in his diary for December 23: "Gone to Karlstad to visit Ellen who around 5 pm had a nice daughter, returned home at 9."

Two years later, on March 18 1927, she had her second child, the son Sven. Her third child, the son Tage, was born on November 29 1929 and her fourth child, the daughter Marianne, on April 29 1932. In the beginning of 1933 the family were six persons big.

On June 5 1933 Ellen became a widdow as her husband died. This years she was 34 yeras old and she now had to run the farm on her own.

Five years later she married for the second time. Her new husband was David Eriksson from the farm Mosserud in Nedre Ulleruds parish. David was born on December 16 1883 and was first cousin to her former husband Gunnar.

After the wedding in Alsters church, on March 12 1938, she and the children moved to David at Mosserud and the farm Mosstorp was leased out. Five years later they sold Mosserud and moved back to Mosstorp in Alsters parish.

After 15 years of marriage she became a widdow for the second time, on January 18 1953, as her husband David died.

In 1969 the farm Mosstorp was sold and Ellen moved to the newbuilt home for retired people at Vallagärdet in the same parish, at the address Opalvägen 23.Here she lived until she died on June 7 1971. She died at the hospital in Karlstad only 72 years old.
---
Children:
Brita, * December 23 1925, Alster. † December 12 2016, Karlstad.
Sven, * March 18 1927, Alster. † July 1 2005, Karlstad.
Tage, * November29 1929, Alster. † January 23 2012, Falun.
Marianne, * April 29 1932, Alster.
---

Back to the Family Tree


Copyright © Håkan Bergström, Latest update 2012-01-24