Katarina "Katrin" Larsdotter

Katarina was born on February 16 1857. She was the first child to the farmer Lars Bengtsson and his wife Stina Olofsdotter, from the farm Kollerud in Eds parish, Värmlands county. She was baptised the following day, February 17th, to Maria Katarina.
The farm in Kollerud that her father owned was a farm called Slåttbråten. Here she spent all of her childhood and the years until she was 32 years old.
In the churchbooks for the years 1886 - 1890 it is written that Katarina on February 2 89 "asked to have the banns published for a marriage to Axel Gustafsson p.342". P.342 givs us the information that Axel was listed in the same churchbook on page 342, "vagabonds". It was also noted that she the same year moved to Bro parish.
Katarina and Axel married in Eds church on March 23 1889. They were the fifth couple to be married in Eds parish that year.
Later the same year she moved to her husband in Bro parish, Varmlands county, and the farm Stensberg where Axel worked as a farmhand. At Stensberg they lived for five years.
On Janaury 10 1890 their first child was born, a son named Karl Ivar. Three years later, on June 7 1893, their second child was born, the daughter Gerda Hildegard.
On December 1 1894 the family moved back to Eds parish, and to one of the farms in Kollerud. Here Axel got a job as a "worker". If the family moved back to Katarinas parents home in Slottbraten or to one of the other farms in Kollerud is not known.
On April 2 1897 Axel and his wife bought the croft Slåttbråten. The owner of the farm by that time was her brother Johan Larsson.
On October 2 1898 their third child was born, the daughter Ellen Augusta, and two years later, on July 17 1900, their fourth and last child was born, the daugther Astrid Karolina.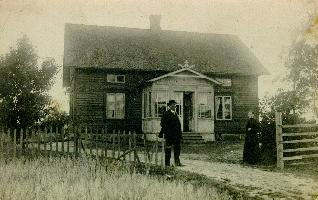 Axel and Katarina infront of the croft Slåttbråten at Kollerud in Eds parish, Värmlands county.
The picture is taken around 1915 and produced as a postcard.

They lived at Slåttbråten until the year 1916 when they bought the farm Säter in Alsters parish, Värmlands county. They moved to Säter in April 1916. Here they came to live for the following 13 years. In 1929 they had to sell Säter as her husband had helped a fiend with his finances. As the friend was bankrupted there was no other way out then to sell Säter.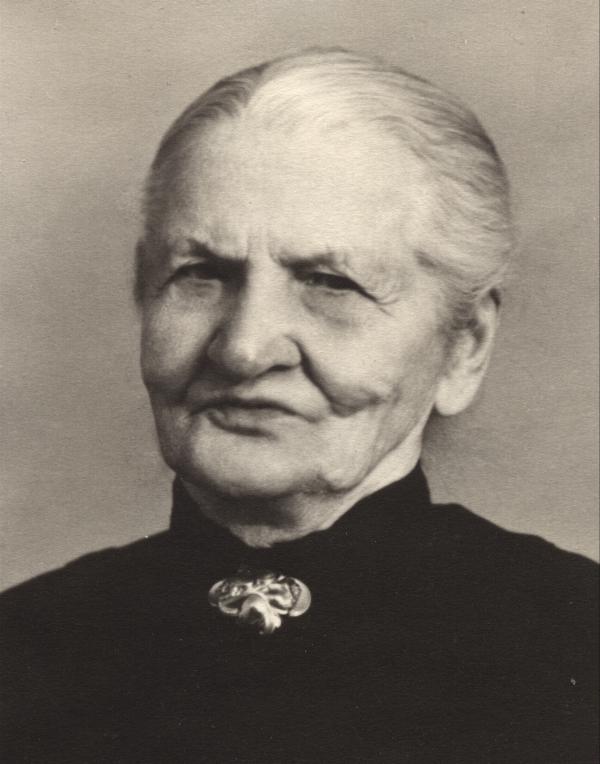 Photo from 1946.
Katarina then moved to the youngest daughter Astrid and her husband Artur Jansson at Ulvsbyn in the same parish. Axel moved to the daughter Ellen and her husband Gunnar Modahl at the farm Mosstorp also in Alsters parish.
Katarina, who became a widdow in March 1937, lived with her daughter Astrid and her husband in Ulvsbyn until she died on September 1 1951, 91 years old.
---
Children:
Karl Ivar, * January 10 1890, Bro.
Gerda Hildegard, * June 7 1893, Bro.
Ellen Augusta, * October 2 1898, Ed.
Astrid Karolina, * July 17 1900, Ed.
---

Back to the Family Tree


Copyright © Håkan Bergström, Latest update 2008-06-15