Carl Johansson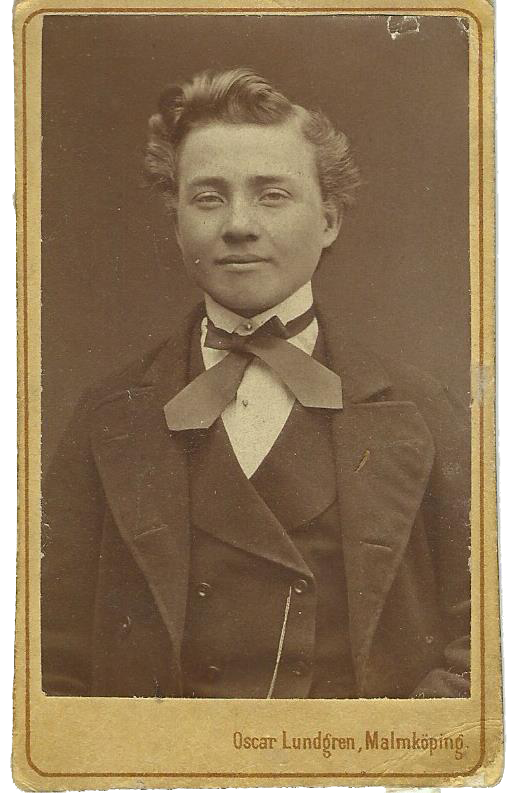 Ca 1890
Click to enlarge

Carl was born on January 27 1859 at a croft under the farm Rännefala in Slöta parish, Skaraborgs county. He was baptised the following day, January 28, to Carls Alfred. Alfred was the third child to the crofter Johannes Johansson and his wife Johanna Isaksdotter. He was baptised Carl Alfred.
When Carl was three years old the family moved from Slöta parish to the railway stationhouse in Sparreholm, Hyltinge parish, Södermanlands county, as his father had gotten a job as a farmhand there from December 18 1862.
Four years later, on October 24 1866, they moved again. This time to Malma Inn in Lilla Malma parish in the same county. His fahter got at job there as a agricultural labour. They moved on to the farm Uddberga in Helgesta parish in October 1871, where his father also had a job as a agricultural labour.
On February 10 1873, Alfred left the home in Uddberga and moved to Sparreholms castle in Hyltinge parish, to work as an agricultural labour himself.
Two years later, 1875, he got a job as a man servant for the Lieutenant-colonel Frick on Åkerö farm in Bettna parish, Södermanlands county. There he stayed for two years and on September 8 1877 he asked for his certificate so he could move on to Stockholm. Carl was now 18 years old.
Carl moved to Stockholm that fall and he settled down on Kungsholmen and the area Marieberg on December 12 1877. At that time Marieberg was owned by the miltail Carl moved to Kungsholmen and Marieberg on 12 December 1877. Mariebergs was at this time a military area and this was among other things, from 1876 an ammunition factory, today the Russian embassy. He became a servant to an officer and stayed at the address Mälaren 24. He stayed there until the next Fall, when he on October 12 1878 moved on to the city of Solna and the address Jakobsberg. He got a job in a restaurant. His three years younger sister Amanda Sofia moved in with him in Jakobsberg. She came from the city of Jonkoping.
On January 9 1880 he moved back to Stockholm and the address Stora Bastugatan 29 in Adolf Fredriks congregation. Almost six months later, on September 15, he moved to the address Gotgatan 25 in Katarina congregation. There he lived together with his wife to bee Augusta Bergström.
They got married on October 10 the same year, 1880, in the church in Katarina congregation. In the churchbooks it is written that wedding was held by Mr Isberg and that Carl had the titel "Innkeeper". Both Carl and Augusta were this year 21 years old.
The following year, 1881, it is written Carl "Has temperate innkeeping business". They also had two maids working for them and four other people living there.
Later the same year, on November 28, they moved to Bromma, a suburb to Stockholm, and the address Fridhem number 27. Six months later, on May 10 1882, they moved again, this time to the village of Vretstorp in Viby parish and Örebro county.
In Vretstorp Carl became an Innkeeper. The family settled down on the farm Sallerhög on Skäfvids properties and here their second and third children were born, their sons Hugo, in 1882 and Gunnar, in 1885. Their first child, the son Evald was born in 1881, but died only one month old.
In 1883 the business got bankrupt and they had to sell all their property. He got to keep some of his personal property untill December 1885 so he could keep on running the business. In January as he was to return the personal proptery he refused. Later he had to pay a fine for that.
In May 1885, three months after the birth of Gunnar, his wife Augusta died. Carl was now alone with two little kids, Gunnar and his two and a half years older brother, Hugo.
After the death of his wife Carl decided to leave Vretstorp. He and the boys went to Stockholm were his wifes brother Evald Bergström and his wife Maria lived. His boy Hugo got to stay with his Uncle where he also grew up.
Where Carl moved after his visit to Stockholm we do not yet know, but two and a half year later he and his son Gunnar moved in to the address "7 kvarteret 13" in Gustavi/Domkyrko congregation in Göteborg on October 16 1888. According to the churchbooks they came from Viby parish in Örebro county.
On February 22 1889 he got married in Masthuggs congregation in Göteborg, to Edla Karolina Strömberg, born June 21 1854. Where she was born is not known. At this time she was living with her parents in Masthuggs congregation, in Göteborg, on the address "6 Roten 9 B". Carl worked as a "Messenger".
Carl and his son Gunnar stayed in Domkyrko congregation in Göteborg until the following year, when they moved to Edla on the address "6 Roten 9B" in Masthuggets congregation on January 14 1890.
On January 14 1895 the family moved to Haga congregation in Göteborg and the address "Östra Haga 70 A".
There he lived until his death, 37 years old, on July 25 1896. He died on Styrsö just outside Göteborg from "hanging", meening he decided to end his own life. He was bureid on Styrsö on July 28.
Edla and the four kids moved back to Masthuggets congregation in October 13 1896. Later we know that Carls son Gunnar came to his Uncle Evald in Stockholm.
Five years later, on june 26 1901 she died. She was bureid on july 30. The children were placed as stepchildren in families around Göteborg.
---

Children with Elin Johansson:
Maria Alfrida "Frida", * January 17 1888, Katarina, Stockholm.

Children with Edla Strömberg:
Karl Bernhard Ludvig, * November 18 1889, Masthugget, Göteborg.
Fritz Elis, * January 20 1892, Masthugget, Göteborg.
Karin Matilda, * August 16 1893, Masthugget, Göteborg.
---

Back to the Family Tree


Copyright © Håkan Bergström, Latest update 2020-04-12