Ludvig Johansson

He was born on Januari 12 1865 as the third child of the farmer and crofter Johan Gustafsson and his wife Maria Cajsa Andersdotter. He was born on the croft Fallbråten later called Skivfallet, Southern Skived in Grava parish, Värmlands county. [Map]

He was not baptised in Grava parish but in Alsters parish, from where his mother came, by the priest L M Bjorkman.

In the month of March 1869, when Ludvig was four years old, his father died. His mother now had to run the farm of her own, along with her children, Ludvig, Anders nine years old and Wilhelmina seven years old. In November 1870 she married for the second time, now to her late husbands borther, Emil Gustafsson.

Seventeen years old Ludvig left the home in Southern Skived. He moved, on October 7 1882, along his sister Wilhelmina, to Alsters parish. He got a job as a farmhand for the farmer Lars Magnus Larsson at the farm Åstorp. Here he stayed until 1885. On November 20 1885, he moved to the farm As and the farmer Jonas Olsson where he also got a job as a farmhand.

In 1886 Ludvig did his military service as privat number 534. Where he did the service in not known. Two years later, on October 20 1888, he moved back to Grava parish and the farm Smörhålan, a croft on Nothern Skifves properties. Here he got a job as a farmhand for Olof Jansson.

He returned to Alsters parish on November 9 1889. This time he moved to the farm Rotnäs where he got a job as a farmhand. Rotnäs was at this time owned by Carl Herman Lennartsson. He left Rotnäs three years later, in 1892. He moved to the farm Hösserud in the same parish, to work as a farmhand for Anders Fredrik Magnusson, his fahter-in-law to be. There he also met his wife to be, Lovisa Andersson, who still lived at home.

For some years he also had been working for shorter periods at Korsnäs Mill in Hosjö in Dalarna, Kopparbergs county. In the winter of 1893 he decided to stay and work for the Mill for a longer period, so he moved there. According to the churchbooks he moved to Hosjö in April 27 1894.

His wife to be, Lovisa, also left on October 27 1893. She moved to the city of Gävle in Kopparbergs county. On April 15 1894 they were married in Gävle. After the wedding Lovisa moved to Ludvig in Hosjö.

In 1899 Ludvig and the his wife and their two children, Olga and Gunnar, moved back to Alsters parish. Ludvig became a farmer on the farm he had bought, Måsserudstorp, later only called Mosstorp.

He became a widdower in November 1919 as his wife died. He lived on the farm Mosstorp until 1923, when he moved to the city of Karlstad and the adress Herrhagen 232. Even if he had moved to Karlstad he often visited his son Gunnar who some years earlier had taken over the farm.

From a postcard sent to Ludvig from the city of Alingsås by his daughter Olga in November 1923 we can read that he lived at the address Värmlandsgatan 10 in Karlstad. [Map]

In the postcard Olga writes: I vykortet skriver Olga:
"Sening you greetings from Alingsås. I am doing all right, but will not stay here for long. I heard you got erysipelas in your face, but I hope you will be ok soon. Send my best regards to Ester. Best regareds to You all from Olga".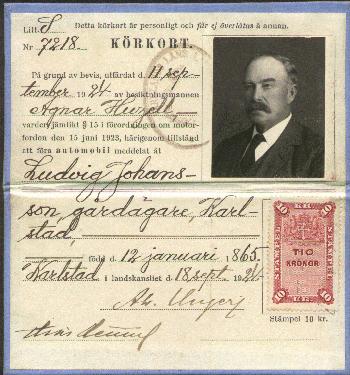 Ludvigs diving license.
Click to enlarge.

Ludvig died on August 23 1926, on the farm Mosstorp in Alsters parish, 61 years old. He was visiting his son and helping him on the farm. He was buried in Alsters church at 01.00 am on September 1st.

His son Gunnar writes in his diary for August 23 1926:
"Daddy drove his car, together with Gustav Andersson Strand, to carpenter. I had taken in the wheat and also returned the threshing-machine. Father had worked a usual the whole afternoon and I could not believe what I saw by the wood-house at 6 pm. Dad was lying there dead, blue in his face, died in the middle of his work. I spoke to him at 5.30 pm and at that time he was as healty as he used to be. Thank you for your love and your hard work and we will remember you for ever: Daddy was 61 years, 7 months, 10 days old but still very young."
---

Back to the Family Tree


Copyright © Håkan Bergström, Latest update 2007-08-30