Carolina Hagelin

Carolina was born on March 16 1825 on the farm Bjorkulla in Funbo parish, Uppsala county. She was the fourth child of the farmer <!A HREF=tavla_hbe_b2-06_e.html>Anders Olsson Hagelin and his wife <!A HREF=tavla_hbe_b2-07_e.html>Greta Larsdotter.
At an age of five Carolina moved with her family to the farm Gotharne in the same parish. There she lived until 1839. In 1839 she moved to the farm Broby, also in the same parish, to work as a maid for the farmer Jan Jansson Lundgren.
During the following seven years she served as a maid on several farm in Funbo parish and in the parishes nearby, Rasbo and Alsike. In 1845 she served on the farm Fredrikslund in Alsike parish. At that time her sister Christina and her husband Per Douchan were also serving as a maid and farmhand on the same farm.
On November 3 1847 she moved to Stockholm, to Katarina congregation and the address Stadsträdgårdsgatan 5. At that time she was 22 years old.
In 1851 she served as a maid for the Baker Johan Petter Pettersson in the block Ufven Större nummer 8 in Maria Magdalena congregation. At that time the married worker Johan Gustaf Bergström was also working for Johan Petter Pettersson. Four years later Gustaf was to be her husband.
On October 1855, Johan Gustaf Bergström, who just had been a widdower, moved to the address Bondegatan 14 in Katarina congregation. There he started a Bakery. He moved to that address with his two sons, Ernst Gustaf, six years old, and Pehr Richard, three years.
Two days later, on October 7, the maid Carolina and the Baker Gustaf had their banns published in Katarina church. They married on October 28 the same year, 1855. Together they had four children.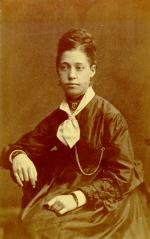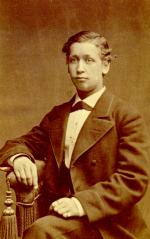 The children Augusta and Evald.
In July 1873 her husband Gustaf died. She continued to run the Bakery with her children Augusta and Evald.
For about four years, since 1869, Carolina and Gustaf had a man working for them named Per August Josephsson. Four years after her husbands death, in 1877, Carolina married Per August. This year Carolina was 52 yeras old and Per August 30. Per August, who was born on September 2 1847 in Lerbacks parish in Örebro county, helped Carolina to run the business. He was in 1877 named "The Baker".
The bread from the Bakery was sold by Carolina at Kornhamnstorg in the Old Town in Stockholm. Her purse from that time is still in the family.
On November 29 1882 Carolina died, only 57 years old. She was buried on December 6.
After that Per August run the business by himself. Later it was sold and by his death three years later, on January 15 1885, he was named "The Businessman". At that time he lived on the address Tjärhovsgatan 15 in Katarina congregation in Stockholm. Carolina and Per August did not have any children of their own.
---
Barn:
Johan Henrich, * 19 January 1857, Katarina, Stockholm. † 15 August 1866, Katarina, Stockholm.
Carolina Augusta, * 10 August 1859, Katarina, Stockholm.
Anna Cecilia, * 14 May 1861, Katarina, Stockholm. † 18 November 1861, Katarina, Stockholm.
Ludvig Evald * 3 October 1862, Katarina, Stockholm.
---

Descendants to Gustaf Bergström och Carolina Hagelin.

Back to the Family Tree


Copyright © Håkan Bergström, Latest update 2007-01-01