Maja Cajsa Andersdotter

Maja Cajsa was born on January 6 1835 in Gräsåsfallet in Alsters parish, Värmlands county. She was the first child to the farmer <!A HREF="tavla_hbe_c1-06.html">Anders Jönsson and his wife <!A HREF="tavla_hbe_c1-07.html">Britta Jonsdotter. [Map]
She grows up on the farm Gräsåsfallet, the farm that also her mother had grown up on. By the time of her birth also her grand father on her mother's side <!A HREF="tavla_hbe_c1-14.html">Jonas Olsson and his second wife <!A HREF="tavla_hbe_c1-13.html">Maria Larsdotter were living on the farm. Maria Larsdotter was her grandmother on her father's side who her grandfather had remarried after the death of her grandmother on her mother's side.
In 1850, 15 years old, she was confirmed in Alsters church. The year before her father had died, only 38 years old. After the death of her father the family stayed on the farm Gräsåsfallet.
In 1852 she left the home in Gräsåsfallet and moved to the farm Skacklerud in the same parish. There she started working as a maid for the farmer Magnus Persson. In 1853 she moved back to her mother in Gräsåsfallet.
The following year, 1854, she moved to the farm Döhle in the same parish to work as a maid for the farmer Jan Andersson.
In 1855 she once again moved back to Gräsåsfallet.
Two years later, in October 27 1857, she moved to Karlstad. Later she returned back home to Gräsåsfallet. The exact year when she returned home is not known.
Three years later in March 22 1860 she got married in Alsters parish to the farmhand Johannes Gustafsson, later called Johan, from the farm Mosserud in Nedre Ulleruds parish. The wedding ceremony was held by A. Wennergren. They had published their banns on January 27 the same year.
By the time of her wedding she was already pregnant with her first child, the son Anders Gustaf. He was born six weeks after the wedding on May 5 1860. Maja Cajsa was at that time still living on the farm Gräsåsfallet in Alsters parish. Later that year, on October 29 1860, she and her son moved to Johan in Mosserud.
In Mosserud Johan lived with his mother, Maria Nyström, and his brother Emil and the foster brother August Larsson. Maja and Johan stayed in Mosserud until 1862. In that year they moved to Grava parish, Värmlands county.
In Grava parish Johan had bought the croft Fallbråten on Södra Skiveds properties. Later the croft changed name to Skivfallet (Link to page in Swedish). [Map] On July 22 1862 the family, Johan, Maria Cajsa and their son Anders Gustaf moved in to the croft Fallbråten.
The croft Skivfallet.
In the following years they had tree more children, the daughter Wilhelmina on October 23 1862, the son Ludvig on January 12 1865 and the daughter Hilma on November 5 1867. Hilma died nine months old on August 8 1868.
In March 1869 her husband Johan died, only 34 years and 26 days old. He died in Alsters parish. Maja Cajsa was left alone with her three children. To her help on the croft she had the farmhand Johan Andersson.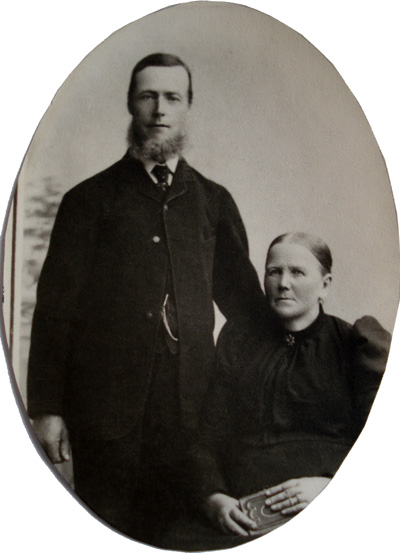 Emil and Maja Cajsa.

Six months after the death of her husband, on November 25 1870, she remarried the farmhand Emil Gustafsson from Mosserud in Nedre Ulleruds parish. Emil, who was the brother of her first husband, was born on the croft Sjöbråten in Nedre Ulleruds parish, Värmlands county, on February 20 1846. Emil became the new tenant farmer of the croft.

Maja Cajsa had four more children with Emil, the daughter Lovisa Amalia, born on July 12 1871, the daughter Anna Matilda, born on October 6 1874, the son Viktor Emanuel, born on March 10 1878 and the daughter Frida Olivia, born on September 20 1879.

On October 7 1882 the children Wilhelmina and Ludvig moved from the home in Fallbråten to Alsters parish. Before 1895 most of the children had moved from Fallbråten.

The croft was named Fallbråten until 1876. After that year the croft had no unique name in the church books, the family were just living in Södra Skived. From 1891 the croft was called Skivfallet.

In 1908 Grava parish was reformed into two different parishes; Grava and Forshaga parishes. Södra Skived and the croft Skivfallet came to be in Forshaga parish, witch it still is.

If Maja Cajsa lived in Skivfallet for the rest of her life is unclear. When she died on March 19 1910, 74 years old, it is noted in the church books in Forshaga parish that she died in Alsters parish. She was also buried at Alsters church on March 27. She died from heart problems.

Where in Alsters parish she died is not known. Maybe she died on the farm that her son Ludvig owned, the farm Mosstorp in Alsters parish. [Map]

After Maja Cajsa died Emil stayed in Skivfallet. He was a tenant farmer until 1911 when he bought the croft. How long he lived in Skivfallet is not known. He sold the croft Skivfallet in 1915, but according to the church books he lived in Skivfallet for the rest of his life. He died in the city of Säffle in Värmlands county on November 12 1923 and was buried in Forshaga on November 18 1923. He died from "Hardening of the arteries and cerebral haemorrhage". In the church book from 1920 he is said to be "the former woodman".
---
Children with Johan Gustafsson:

Anders Gustaf, * May 5 1860, Alster.
Wilhelmina, * October 23 1862, Grava.
Ludvig, * January 12 1865, Grava.
Hilma, * November 5 1867, Grava. † August 8 1868, Grava.

Children with Emil Gustafsson:

Lovisa Amalia, * July 12 1871, Grava.
Anna Matilda, * October 6 1874, Grava.
Viktor Emanuel, * March 12 1878, Grava.
Frida Olivia, * September 20 1879, Grava.
---

Back to the Family Tree


Copyright © Håkan Bergström, Latest update 2007-09-24