Gustaf Bergström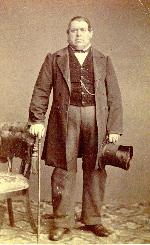 Gustaf Bergström**

Gustaf was born on November 18 1818 in the city of Uppsala. He was baptised the following day, November 19, by pastor Mittas to the names Johan Gustaf. He was the first child of Johanna Margareta Bergström. The name of his father is not known.
He grew up in the city of Uppsala. At an age of 16, in 1836, he was a trainee for the Bookbinder Frans Wictor Sebell in Uppsala.
The following year, 1837 he moved to Stockholm. On April 24 he settled down at the block Moraset 36 in Adolf Fredriks congregation in Stockholm. He was noted to be a "youngster" and was said to be "honest".
In the block Moraset 36 he moved in to the Baker Johan Erik Boman and in his business Gustaf started working as an apprentice.
On July 16 1841 he moved on to the block Nisser in Jacobs
congregation. The following year he worked as a journeyman for the Baker C A Wennberg at the block Jerico number 52 in the same congregation.
In 1844 and 1845 he lived in Maria Magdalena congregation in Stokholm.
On October 24 1844 he got a certificate to get married from the administration of Maria Magdalena congregation. See the certificate.
On April 6 1845 he got married to Christina "Stina" Claesdotter in Adolf Fredriks congregation. Stina was born on October 4 1822 in Fellingsbro, Örebro county. On April 21 1846 their first child was born, the daughter Charlotta Christina Gustava. She died on December 7 the same year.
The day before, on December 6 1846, they had moved from Jacobs congregation to Katarina congregation and the address Gotgatan 36. The following year Gustaf was working for the Baker P M Reisenhoff at the address Gotgatan 28.
During 1848 Gustaf and his family moved to the block Urvadersklippan Storre and the address Urvadersgrand 11. Here their second child was born, the son Ernst Gustaf, on February 16 1849.
They lived in Katarina congregation until December 12 1850. In December 1850 they moved to Maria congregation. Most lokely they settled in the block Kattfoten Storre and the address Ovre Bastugatan 24. We know for sure that they lived at that address in 1853. Now their third child was born on February 8 in 1852, the son Per Richard.
In the beginning of 1850th Gustaf started working for the Baker Johan Pettersson who had his Bakery in the block Ufven Storre number 82. In 1851 the maid Carolina Hagelin was also working for the Baker Johan Pettersson. She was a couple of years later to be Gustafs second wife.
On March 25 1855 his wife Stina died. She died in Kung Karls parish in Sodermanlands county. That is where she also was buried on April 9.
Gustaf then became alone with his two sons Ernst Gustaf, 6 years old, and Per Richard, 3 years old. He later that year decided to move back to Katarina congregation and they moved in to Katarina congregation and the address Bondegatan 14 on October 5 1855.
Two days later, on October 7 1855, Gustaf and the maid Carolina Hagelin had their banns published in Katarina church. They were married on October 28 by the priest Ignell. This year Gustaf was 37 years old and his wife Carolina 30 years.
At the address Bondegatan 14, later number 15, he and Carolina started their own Bakery. Later Gustaf became the owner of the house on Bondegatan 14. From 1860 he had the titel "Baker".
Gustaf run the Bakery businness with his wife until he died, on July 14 1873, only 56 years and 7 months old. He was buried on July 18.
In the memoars of Gustafs grandson, Hugo Bergström, he writes about his grandfather as follows: "The Baker Gustaf Bergström, Bondegatan 15, Stockholm. Owned the building and sold it for about 20.000 SEK and there are now three big buildings".
---
Barn med Christina Claesdotter:
Charlotta Christina Gustava, * 21 April 1846, Jakob, Stockholm. † 7 December 1846, Katarina, Stockholm.
Ernst Gustaf, * 16 February 1849, Katarina, Stockholm.
Per Richard, * 8 February 1852, Katarina, Stockholm. † 8 May 1879, Katarina, Stockholm.


**) This foto is from an old album and it is surrounded by fotos of his children Augusta and Evald. Therefore it is most likely that the man on the foto is Gustaf Bergström.
---

Descendants to Gustaf Bergström och Carolina Hagelin.

Back to the Family Tree


Copyright © Håkan Bergström, Latest update 2011-01-16