Lars Bengtsson

Lars was born on June 9 1825 on the farm Ängerud in Eds parish, Värmlands county. He was the fifth child to the farmer Bengt Jansson and his wife Maria Andersdotter.
The following year, in 1826, the family moved to his mothers patrimonial estate in Kollerud in the same parish. Lars grew up on the farm in Kollerud, called Slåttbråten.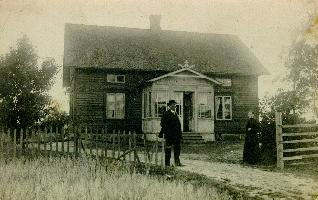 Lars daughter Katarina and her husband Axel Gustafsson in front of
the farm Slåttbråten in Kollerud in Eds parish, Värmlands county.
The picture is taken around 1915 and produced as a postcard.

In the church-books för the years 1827 - 1830 it is written that he had smallpox.
At an age of 15, in 1840, he was confirmed in Eds church.
Five years later, on November 8 in 1845, he left his home and moved to Nors parish, Värmlands county. In Nors parish he started working as a farmhand on the farm Utterud. Later the same year he moved on to the farm Tuvetorp in the same parish. On Tuvetorp, owned by the crofter Sven Svensson, he also worked as a farmhand.
He stayed in Tuvetorp until the following year, 1846, then he returned to Eds parish and the farm Ängerud. On Angerud he worked as a farmhand for the farmer Jonas Andersson. Here he stayed for two years. In 1848 he returned home to his parents in Slåttbråten in Kollerud, Eds parish.
In the month of April in 1854 his father Bengt Jansson died, and the farm was taken over by Lars and his brother and sisters, the sister Stina and her husband Anders Olofsson, his brother Anders and his wife Maja Lisa Jansdotter, and the sister Maja who already was a widdow.
During this period he came to know the four years older maid Stina Olofsdotter from one of the other farms in Kollerud. In 1856, on March 25, Lars and Stina married in Eds church. They had their banns published on March 9 and they were the third couple to be married in Eds parish this year.
The same year his sister Stina and her family moved from Slåttbråten. Three years later, in 1859, his sister Maja, who now had remarried, moved with her family.
In 1861 his mother Maria Andersdotter died and the following year, 1862, also his brother Anders. After 1862 Lars took ower the farm and from 1866 he was the owner of Slåttbråten. Lars lived on Slåttbråten for the rest of his life.
In the end of the 1890th the farm was taken ower by his daughter Katarinas husband Axel Gustafsson.
In May 1909 his wife died and Lars became a widdower. The following year, on February 14 1910, Lars died in an age of 85.
---

Descendants to Lars Bengtsson och Stina Olofsdotter.

Back to the Family Tree


Copyright © Håkan Bergström, Latest update 2007-01-01